Air cooled / Scroll / R410A / Heat pump / 4-Pipe
Capacity range: 49kW ... 84kW
Liquid heat pumps of the ELFOEnergy Magnum range, ideal for the small/medium-scale commercial sector who want tight control, are specifically designed for outdoor installation
The ELFOEnergy Magnum heat pumps and liquid chillers are high efficiency packaged units for small and medium-sized applications in the services sector. Designed for outdoor installation, they ensure the highest energy efficiency over the entire operating cycle, especially under load staging conditions that coincide with the unit's longer operating time, thanks to the continuous capacity modulation that adapts the capacity supplied to the actual energy demand required by the system. ELFOEnergy Magnum is available in the two EXCELLENCE and PREMIUM versions. The EXCELLENCE version offers the highest energy efficiency both during the seasonal cycle and under full load conditions. The PREMIUM version provides excellent performance under partial load conditions, but has a compact design which gives it an additional competitive edge. 
Benefits of ELFOEnergy Magnum:
HIGHLY SILENT OPERATION: The brand new AxiTop diffuser creates ideal air distribution: it aerodynamically decelerates the flow and converts most of its kinetic energy into static pressure, thereby achieving lower noise levels and absorbing less energy.
ADVANCED TECHNOLOGY: The modulating pumping unit developed by Clivet, consisting of two parallel pumps controlled by an inverter, allows for lower consumption and at the same time ensures operation even under critical conditions. It automatically reduces the water flow rate according to the load required by the system, by controlling the pressure or temperature, and prevents blocks due to overloads in the event of critical conditions.
MODULARITY AND MANAGEMENT OF MORE UNITS IN CASCADE: The compact construction allows to combine multiple units in confined spaces, realizing a high power system. The control allows to coordinate up to 7 units managing automatically the operation with maximum efficiency.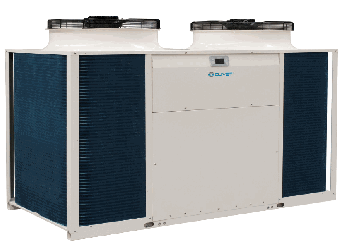 DOCUMENT
Download - General sales brochure
Download - Technical sales brochure
4-Pipe Multi-function (simultaneous heating/cooling) documents
Download - Technical sales brochure
Operating manuals, wiring diagrams & software program guides are provided on sale of goods.