Air cooled / Scroll / R410A / Heat pump / 4-Pipe
Capacity range: 243kW ... 1350kW
Liquid chillers and heat pumps of the SPINchiller range, ideal for the large-scale commercial sector who want high efficiency and control, are specifically designed for outdoor installation
MODULAR SCROLL TECHNOLOGY - Designed for outdoor installation, SPINchiller³ employs modular Scroll technology with several compressors on the same refrigeration circuit, electronic expansion valves and plate evaporators with highly efficient heat exchange. It stands out for the very high ESEER efficiency during the seasonal operation cycle. 
DUAL ENERGY VERSION - The standard EXCELLENCE version with a class A Eurovent rating offers the highest energy efficiency both during the seasonal cycle and under full load conditions. The PREMIUM version also provides excellent performance under partial load conditions, but has a compact design which gives it an additional competitive edge.
SILENT - The low sound emissions are the result of the optimal size of the exchange surfaces, the use of high efficiency fans fitted with wing profiles with "winglets" and the innovative AxiTop diffusers with kinetic energy recovery.
INDUSTRIALISED SYSTEM - The units can be installed easily and quickly thanks to the quick connections towards the user circuit, to the fact that they are already set up for electrical connections and thanks to the full operating test before shipping. They can also be provided with pumping units already installed, thereby integrating all the main components of the system in a single solution SPINchiller3 water chillers and heat pumps provide the highest seasonal efficiency. They are designed to be installed outdoor and feature uneven scroll compressors mounted in the same circuit, electronic expansion valves and high efficiency plate type evaporators.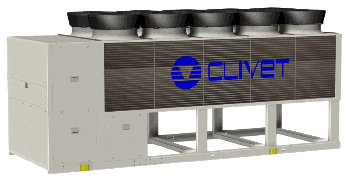 DOCUMENT
Heat Pump documents
Download - General sales brochure
Download - Technical sales brochure
4-Pipe Multi-function (simultaneous heating/cooling) documents
Download - Technical sales brochure
Operating manuals, wiring diagrams & software program guides are provided on sale of goods.