Chilled water / Hot water / Ceiling mount
Capacity range: 2kW ... 3.8kW
Cased, 2 pipe indoor terminal units.
Small sized vertical or horizontal water terminal units 0.83kW..3.80kW 2-pipe OR 4-pipe.
ELFORoom2 is a clever mix of technology and design that provides a high level of comfort, better than any other diffusion system (radiators, fan coils, radiant panels).
It is the ideal solution for project refurbishment: ELFORoom2 can be installed to replace radiators and, thanks to the low operating temperatures, allows a big saving on the life cycle costs and a better air quality thanks to the continuous filtration. Beside heating the room, ELFORoom2 allows to cool and dehumidify the room in summer. 
ELFORoom2 is also a good option for the newly built houses: because of the low heating loads required ELFORoom2 allows lower first costs compared to a radiant system and also to quickly reach the required temperature thanks to the lower thermal inertia.
ELFORoom2:
ALWAYS WELL BLENDED TEMPERATURE - It eliminates temperature stratification of the air thanks to the continuous fan speed modulation
REDUCED CONSUMPTION - the unique motor allows big savings on consumptions
QUIET OPERATION - the continuous fan operation allows to always operate at the lowest speed reducing the noise
CLEAN AIR WHILE AIR CONDITIONING - continuously mixing the air allows a constant filtration thus a better air quality
SUITABLE FOR ALL THE INSTALLATIONS - available in horizontal and vertical versions both cased and uncased.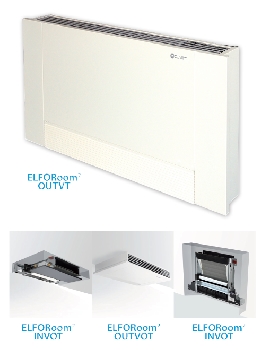 DOCUMENT
Download - General sales brochure
Download - Technical sales brochure
Operating manuals, wiring diagrams & software program guides are provided on sale of goods.