Air cooled / Scroll / R410A / Heat pump / 4-Pipe
Capacity range: 89kW ... 216kW
Liquid heat pumps of the ELFOEnergy Large range, ideal for the medium-scale commercial sector, are specifically designed for outdoor installation
ELFOEnergy Large2 water chillers and heat pumps provide the highest seasonal efficiency. They're designed to be installed outdoor and feature uneven scroll compressors mounted in the same circuit, electronic expansion valves and high efficiency plate type evaporators.
ELFOEnergy Large2 shows an unmatched seasonal efficiency ESEER and is available in two versions: EXCELLENCE and PREMIUM. The standard version EXCELLENCE offers the highest efficiency both at full and at part load. Also the PREMIUM version offers high efficiency at part load but favour also the compact dimensions being therefore extremely competitive.
Thanks to its features, ELFOEnergy Large2 offers:
Self-adaptability in different load conditions, thanks to the availability of several capacity steps and the adjustment logic developed for maximum efficiency and minimum wear 
Very high overall reliability, thanks to the consolidated construction choices and the use of industrially-made products
Lower sound emissions, achieved thanks to the optimal sizing of the exchange surfaces and the use of high efficiency fans with "winglets"
Quick and easy installation thanks to the quick connections with the main circuit, electrical wiring enablement and complete functional testing before delivery. The units can also be supplied with pump assemblies, partial heat recovery and inertial storage tank already installed on board, bringing together all the system's main components in a single solution.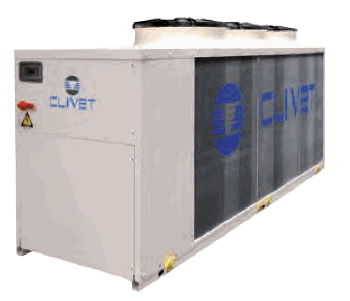 DOCUMENT
Download - General sales brochure
Download - Technical sales brochure
Operating manuals, wiring diagrams & software program guides are provided on sale of goods.